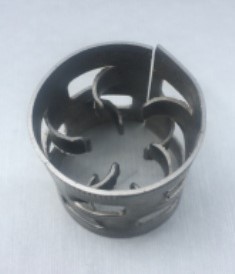 Dimensions
mm
quantity
pieces/m3
Specific surface
m2/m3
Free volume
m3/m3
Mass of steel
kg/m3
50x50x0,7
6500
0,9643
286
50x50x0,6
6500
0,9694
245
50x50x0,5
6500
0,9745
204
38x38x0,8
14800
145,419
0,9469
425
38x38x0.7
14800
134,832
0,9535
372
38x38x0,6
14800
142,246
0,9602
319
38x38x0,5
14800
140,659
0,9668
265
Dimensions
mm
quantity
pieces/m3
Specific surface
m2/m3
Free volume
m3/m3
Mass of steel
kg/m3
35x35x0,7
19000
158,642
0,9565
406
35x35x0,6
19000
156,689
0,9565
348
35x35x0,5
19000
154,768
0,9638
290
35x35x0,4
19000
152,783
0,9710
232
25x25x0,6
56000
227,947
0,9427
490
25x25x0,5
56000
223,756
0,9522
408
25x25x0,4
56000
219,565
0,9618
327
Comments
The mass of the rings made out of the metals other than steel is to be calculated multiplying the value from the Table by: 0.345 for Al, 1.136 for Cu and 0.574 for Ti.
The rings are custom-manufactured using the materials selected by the Clients proper for the media inside the column. On request, we provide a certificate for the metal that is used.
The Bialecki's rings can be arranged and weld- or pressure weld-connected in the packages of the shapes and dimensions as requested by the Clients.
The rings in bulk are delivered in PP bags, and the packages, as agreed with us..
copyright Eko-Struktury 2022 All Rights Reserved