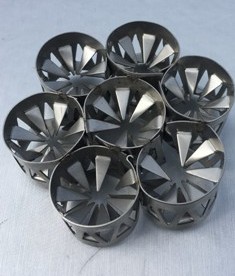 Dimensions
mm
quantity
pieces/m3
Specific surface
m2/m3
Free volume
m3/m3
Mass of steel
kg/m3
80x80x0,8
2141
90,618
0,9657
274
80x80x0,7
2141
89,995
0,9700
240
80x80x0,6
2141
89,373
0,9743
205
80x80x0,5
2141
88,751
0,9786
171
50x50x0,8
8944
152,428
0,9438
449
50x50x0,7
8944
150,927
0,9509
393
50x50x0,6
8944
149,426
0,9579
337
50x50x0,5
8944
147,925
0,9649
281
50x50x0,4
8944
146,425
0,9719
225
Dimensions
mm
quantity
pieces/m3
Specific surface
m2/m3
Free volume
m3/m3
Mass of steel
kg/m3
35x35x0,7
26262
222,216
0,9293
561
35x35x0,6
26262
219,100
0,9396
481
35x35x0,5
26262
215,985
0,9495
401
35x35x0,4
26262
212,870
0,9596
321
25x25x0,6
72680
399,212
0,9144
685
25x25x0,5
72680
332,947
0,9286
571
25x25x0,4
72680
326,683
0,9429
456
12x12x0,4
662650
688,896
0,8839
929
12x12x0,3
662650
661,192
0,9129
697
Comments
This parameter depends on the shape and dimensions of a given package. The numbers of pieces given in the Table relate to the number of the rings regularly arranged in a cube of dimensions 1m x 1m x 1m, taking into account the actual location of the planes that limit the package.
The mass of the rings made out of the metals other than steel is to be calculated multiplying the value from the Table by: 0.345 for Al, 1.136 for Cu and 0.574 for Ti.
The rings are custom-manufactured using the materials selected by the Clients proper for the media inside the column. On request, we provide a certificate for the metal that is used.
The Bialecki's rings can be arranged and weld- or pressure weld-connected in the packages of the shapes and dimensions as requested by the Clients.
The rings of all dimensions can be produced without side openings as Raschig's rings.
The rings in bulk are delivered in PP bags, and the packages, as agreed with us.
copyright Eko-Struktury 2022 All Rights Reserved